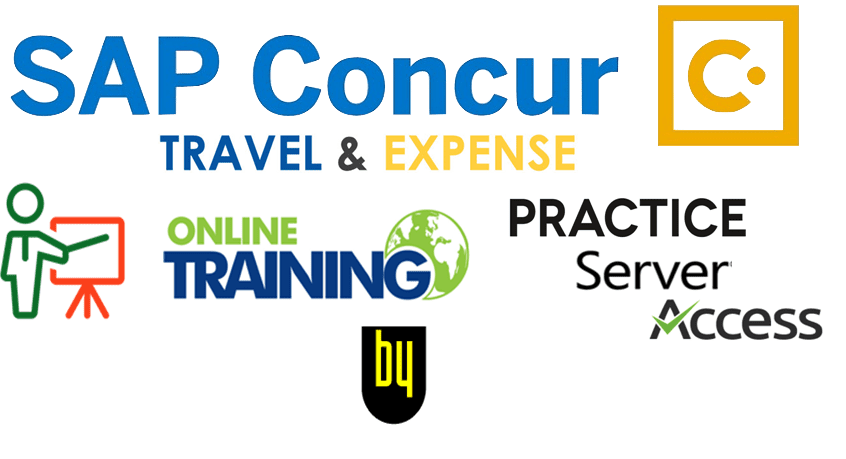 What is Concur?
Concur is a web-based tool that fully integrates travel reservations and expense reporting data into one
application. Concur allows for the electronic processing of the following: 
P-Card Transactions—Travel and Non-Travel
Travel Reimbursements
Miscellaneous Reimbursements
Payments to Vendors
International Travel Approvals  
What are Concur Modules?
Concur includes four modules which should be used to perform different types of activities in the system.
Concur Request should be used to notify appropriate parties of international travel.
Concur Travel should be used to reserve airfare, rental cars, and hotels through the University's travel management company (TMC).
Concur Expense must be used by UA employees to reconcile P-Card charges and to request reimbursements for UA employees.
Concur Invoice must be used to submit Payment Re- quests to reimburse non-UA individuals and to process payments to vendors. 
 Get Hire Real-time Tutor for  SAP Concur instructor-led online Training – 100% Live Practice
SAP SuccessFactors, SAP Concur, S/4 HANA Finance Course Training
SAP APO GATP online Training and Configuration by Industry Expert
 Also read : 
HR Professionals need learn SAP SuccessFactors for better Career opportunities 
What is Concur Expense? 
There are two types of Expense Reports within Concur. 
All P-Card Non-Travel expenses should be reconciled using the P-Card Non-Travel Expense Report within a monthly billing cycle. Reports are generated in Concur where cardholders or delegates add transactions to an Expense Report, select Expense Types (Banner Account Codes) for each transaction and include the Business Purpose information and receipt, if necessary.
The Travel, Entertainment, and Reimbursements Policy should be used by UA employees to request reimbursement for travel expenses and to reconcile any travel related P-Card transactions. Travel for UA guests or students paid for by a UA P-Card should be reconciled in Concur Expense. This policy should also be used for any entertainment and/or relocation related charges and for any other miscellaneous reimbursements to UA employees. 
Attaching Receipts?
There are several ways to attach receipts:
Scan and Upload to Available Receipts—Scan and save the receipt to an easily accessible location on your computer. Concur supports .png, .jpg, .jpeg, .pdf, .html, .tif, or .tiff file formats with a 5 MB limit per file.
Scan and email to [email protected].
Take a picture—Use your smart phone or other de- vice to take a picture and email to submit via the Concur mobile app.
 Attach a Receipt to an Individual Transaction?
You may attach receipts to individual transaction line items by uploading scanned receipts saved on your computer or within your Concur account.
With the transaction selected, click the Attach Receipt button at the bottom right corner.
To upload a receipt image from your computer, click Browse in the File Selected for Uploading window.
Navigate to the location of the receipt im- age file on your computer.
Select the file and click Open.
Click Attach.
3. To upload from your Available Receipts, check the box of the image and click Attach.
Attach a Receipt to Multiple Transactions?
You may attach a single document at the report level to document multiple transactions within an Expense Report.
Click the Receipts button below the Statement Re- port title at the top of the screen.
Select Attach Receipt Images.
Click Browse in the File Selected for Uploading window at the bottom.
Navigate to the saved receipt image on your computer.
Select the file and click Open.
Click Upload to attach the file. The window will note the file is Attached. Close the window.
The receipt icon will continue to be gold although Concur will now permit you to submit the expense report for approval.
What is the Cloud? What is the reason behind SAP On-Premise modules replacement by SAP Cloud technologies?
As entire Globe is moving towards "Cloud", now it has become mandatory for each technology or tool to
convert it's dynamics, structure, architecture, tradeoffs and everything into CLOUD. SAP named as rich
technology in Consulting for clients to get implemented for their business automations,  has turned to
CHEAP in cost, changing to CLOUD completely.
SAP has different on-premise modules like SAP-HR, SAP-SD, SAP-FICO, SAP-SRM, SAP-MM , SAP-PP etc.,
learned by lacks of people as software for those modules is freely available from cracked-market at 200/- cost. Where everybody can get that software, learn and teach. 
That's The reason behind this huge competition for SAP old & on-premise modules is just due to the huge
number of trainers availability who didn't even work for a day. As far as our decades of  technology  
expertise goes, worked for many enterprise allocations and its development, we've seen all the hell & back
of resources when they get recruited in to companies. We recommend the technology or a tool what you
opted, should be new to the market, and the training feasibility of it should be very less  then only getting
a job or to switch to another job will become more easy. Following the same makes you a dependable in
an organization and will be a no-other-go for a company until they made you to join in their projects. It
would be possible when that technology or tool is of CLOUD.
As any CLOUD based technology or tool is not an installable-software comes in CD or DVD, But which can
run by accessing its software instance [URL & Credentials] as a service through internet in your own
browser. It can be possible only for ENDTARCE to provide you training & practicing on a software
instance on Live & Trainer Presented Practice Sessions by Senior Solution Architect from every ground
of SAP Cloud Concur. 
You can avail Online training & Certification Support with assured job assistance and references from
ENDTRACE. 
Recommended to read: 
Google Helps Job Seekers Find Training Programs Nearby – endtrace
Choosing best Online Learning Platforms to your bright career – eLearning Industry
What is Web Application Testing? Important points to consider while Testing
SAP S/4 HANA Training and Certification Course Online
SAP APO GATP online Training and Configuration by Industry Expert