What is Palo Alto Networks?
Palo Alto Networks, Inc. is a multinational cybersecurity company founded by Nir Zuk in the year 2005. It offers multiple products of advanced firewalls and cloud-based services that help an organization to cover the aspects of security.
The company's first product is an advanced enterprise firewall released in the year 2007. The latest product of the company is Cortex, an AI-based continuous security platform released in February 2019. Palo Alto Networks has a threat intelligence team called Unit 42. Their main goal is to research through the data collected by the company's security platform and discover new threats. 
Palo Alto Networks has made numerous acquisitions and had grown to be a global cybersecurity leader. They implement a Zero Trust strategy to reduce the overall cybersecurity risk across the network. It offers integration with tools like Threat Intel, Network Policy Management tools, SIEM, IAM, and many more.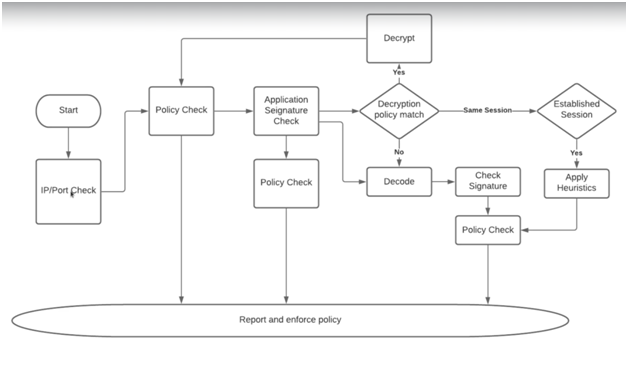 Application App-ID identification in Palo Alto:
Next Gen Palo Alto firewall provide granular level of access to network and applications and in present IT filed which is most important aspect and security terms it can least privilege access
Which means if firewall allow traffic based on port number there will multiple other which are allowed but not required for the organization which may lead to cyber attacks
Palo Alto firewall has App-Id concepts to allow the traffic for allowing required application which is irrespective of port. It identifies the traffic flow behavior and defines application.
For identifying application palo alto firewall 4 types of techniques below are as follows
Application signature
SSL is identified and decryption is in place it will decrypt and send for application identification
Decoders
Heuristics (Behavioral basis)
Here key point it is allow dynamic ports for allowing VOIP traffic in NAT reversal traffic this helps to reduces administrator task by just allowing application we allow traffic by not compromising the security. 
 Follow the Introduction to setup Palo Alto Networks firewall for Beginners
What is a microservice? Answer: A microservice is a small, independent service that performs a specific function within a larger application. It is...
read more